Even the most cautious drivers might have an accident at any time. What do you do immediately following involvement in one? Please try to keep your cool. It's not rocket science to figure out what to do after an accident, but it's not always easy, either. You'll be able to take better notes on the accident if you can keep your calm.
To reduce anxiety after an accident and speed up any prospective claims process, try following these measures:
What To Do Immediately After a Car Accident
Check For Injuries in Yourself and Passengers
Find out right away whether anyone has been hurt. If that's the case, dial 911 for an immediate response from emergency services. Some states compel drivers to report accidents, even if they were minor, and the other motorist was helpful. Plus, your insurance company will likely require a formal report, which you may submit.
Get Yourself and Your Vehicle Out of Danger
It's imperative that you get entirely out of the way of oncoming traffic by pulling over to the side. You should use flares and reflective emergency triangles to alert passing motorists. You should move everyone out of the car to a safe area away from the road if an explosion seems imminent.
Contact The Police (And Paramedics if Needed)
Please contact the authorities. The local law enforcement may or may not show up to an accident site depending on whether or not it is located on public or private land. Even so, you really should try to call them, as well as the paramedics. If the accident was a hit-and-run, you should know that most policies stipulate that you must report it to the authorities within a certain amount of time.
Collect The Right Information From the Other Driver
The other drivers usually involved only require your name and insurance information. Despite the temptation to discuss the incident at length with the other driver, you should keep your interactions to a minimum so that you don't accidentally acknowledge fault, place the blame on the other driver, or reveal the extent of your own insurance coverage.
What Information Should You Collect?
Full Name and Contact Information.
Insurance Name, Number, and Policy Number.
The Driver's License and License Plate Number.
Color, Model, and Type of Vehicle.
Precise Location of the Accident.
Contact Information of Witnesses.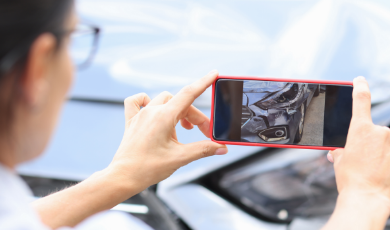 Photograph The Scene of the Accident
If there is apparent damage to the automobiles, you should snap images of them using a camera or a camera phone. It's also a good idea to take pictures of any wounds you might have. However, you shouldn't obstruct the police inquiry that's already underway. If you cannot do so at the scene of the accident, you should take images as soon as possible.
How To Photograph a Car Accident Scene
Photograph or videotape any damage done to either vehicle, interrogate any potential eyewitnesses, jot down as much as you can recall, and record an audio or video account of the incident if possible.
Follow these suggestions to get the best photos possible of the disaster.
Pictures From Every Angle
You need shots of the wrecked vehicles from every angle. Take pictures of all four sides of the vehicle. It's important to document the damage and any substances that may be escaping.
Use An Object For Scale
If you're taking a picture of a ding or scratch on your car's fender, for instance, it can be instructive to include a coin or key to show proportions.
Vary The Distance Of Your Photographs
Stand at least 10 feet away from your vehicle, the other vehicle, or any other object you may have collided with if doing so is safe (like a street sign). You should slowly approach the point of impact while capturing increasing numbers of photographs.
Take Pictures of Your Injuries
Take pictures of any wounds, scrapes, or bruises if at all possible. If you end up needing to file a claim for injuries, this could be helpful.
Photograph The Inside of Your Car
Airbags deploying and broken windows are two examples.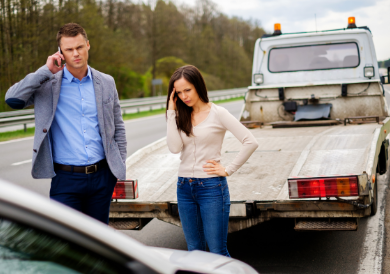 Call a Tow Truck if Needed
Damage assessments will determine whether or not your vehicle needs to be towed to a collision repair facility. Roadside help is a common perk of auto club memberships. There are towing services the police can call, and some automakers even have roadside assistance programs.
Don't take at face value the credibility of a tow truck that just happens to appear at the scene of the accident; instead, check out its qualifications and make sure you get contact info.
Call Your Insurance Company
Attempting to settle for cash in lieu of filing an insurance claim is tempting, but doing so could leave you financially responsible for any losses that resulted from the collision.
Take the High-Tech Route
Many insurance companies now provide digital resources (e.g., a mobile app) to kick off the claims procedure digitally. For more information, please go to your insurance card or dial the toll-free number provided on the card. The insurance company will question you extensively about the incident and may even have you utilize a smartphone-based remote inspection tool.
Some insurance companies provide additional services, such as dispatching a tow truck, setting up a rental car, and documenting the incident through a mobile app.
Check For Injuries and Move to a Safe Area
Sometimes the effects of an accident don't become clear for a day or two after it occurs, even if you may feel great at the time. Minor impacts can still cause significant brain or spinal cord injuries, so if you feel pain or notice anything out of the ordinary, you should see a doctor.
It is crucial to keep track of any and all physical injuries sustained as a result of an accident, as this will likely be included in your vehicle insurance claim.
Decide Whether to File a Claim
To help you file an insurance claim, you might use the insurance company's app or fill out their forms.
Set aside a specific location in your vehicle for important documents, including your driver's license, insurance card, contact information, and a checklist of things to keep in mind in the event of an accident.
Getting Legal Assistance
CIR Legal is an attorney group in the Bluegrass State established for the benefit of Kentuckians. Our mission is straightforward: to provide excellent legal representation tailored to each individual client. If you're dealing with the aftermath of a car accident and have no one to ask for help, call us, and we'll answer!
How Insurance Pays Out After An Accident
Your insurance provider will get in touch with you to get specifics about the loss and may request a recorded or even a written statement from you. It is possible to obtain a sworn examination in certain situations. Other motorists and possible witnesses may be contacted as part of this investigation.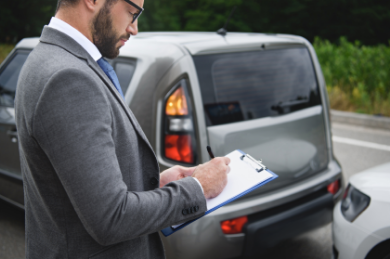 Car Insurance Rates After a Crash
The physical effects of a car crash or car accident may only last a few seconds, but the financial fallout can be felt for years. Be prepared, even if you have a spotless driving record if you ever cause an accident. After an accident that causes property damage, the average insurance premium increase is 45%, and after an accident that causes injuries, it's 47%.
Things to Avoid After a Car Crash
Be on the lookout for the following after a car crash:
Avoid Roadside Discussions About Responsibility
To be involved in a car crash can be a highly stressful and upsetting situation. Keep your cool following a car collision; doing so is for your own safety. Though it may feel justified to express your outrage at the other people involved in the disaster, doing so will accomplish nothing and likely lead to more trouble. Instead, keep your cool and make sure everyone involved in the collision receives medical attention.
Do Not Sign Statements Regarding Fault
Each driver engaged in an accident may have contributed to the incident through their own mistakes. The insurance firms involved may reach a mutually agreeable joint assessment of fault in such cases, so you don't have to sign on your own. One driver can be found 100% at fault, while both can be found 50% at fault or any other amount in between.
Do Not Negotiate The Payment Of Damages
The only negotiations that should be done are the ones happening with the insurance company or claims adjuster, knowing both your ideal compensation and the bare minimum you'll accept. You should use your mechanic's and the Internet's estimates as the high and low ends of your range. Also, you should maintain your composure and honestly evaluate their justification for their offer while negotiations continue.
Decline "Handshake Agreement" Offers to Pay Your Deductible
Even if the other driver offers a large quantity of money or says they have no auto insurance, you should not accept cash for the accident instead of making a claim with your insurance company. Remember that a handshake agreement paid for in cash on the spot may save you money in the short term, but it may put you at risk for high costs in the long run.
Do You Have A Case?
Please use the form to the right for a free review and consultation. Allow our attorneys to provide you with a step-by-step road map of how your case will be handled.
IMPORTANT: You should not send sensitive or confidential information via this website, as the Internet is not necessarily a secure environment, and it is possible that your email sent might be intercepted and read by third parties.
Important Tips
To summarize, the following are important tips to always keep in mind after a car accident:
Make a distress call. Call 9-1-1 and ask for assistance if you or anyone else who was engaged in the incident is hurt.
Obtain professional medical attention.
Collect Information and keep a record of the evidence.
Don't admit fault.
Make an appointment with a car accident attorney from the CIR Legal team in the Lexington, Kentucky, area.
What To Do After a Car Accident FAQ
Suppose the police do not go into detail regarding the accident, and you believe the damage to your vehicle will be worth more than $500. In that case, you are required by law to file a written accident report with the "Kentucky State Police" within ten days of the incident. This requirement is found in KRS 189.635(4) of the Kentucky Revised Statutes.
If you cause an accident, your insurance premiums will certainly increase since companies will view you as a riskier driver who is more prone to file claims. You should expect a hike in your vehicle insurance rate after an accident, but exactly how much will vary based on a number of factors, including the insurance company you choose, your driving record, any claims you've made in the past, where you live, and in some jurisdictions, your age, and gender.
Concerning auto insurance and injury claims following an accident, Kentucky is a "chosen no-fault" state. What you need to know is as follows:
In the event of an automobile accident, no matter who was at fault, the policyholder's own insurance company would pay for the policyholder's medical expenses and other economic damages.
In Kentucky, drivers have the option of not participating in the no-fault system, which allows them to pursue legal action against negligent drivers.
In the state of Kentucky, all drivers are required to have liability insurance in the event of an accident.
Are you looking for a car accident lawyer in Lexington, Kentucky? Save time and find the reliable team you need at CIR Legal today. You deserve a decent and effective defense. We got your back!