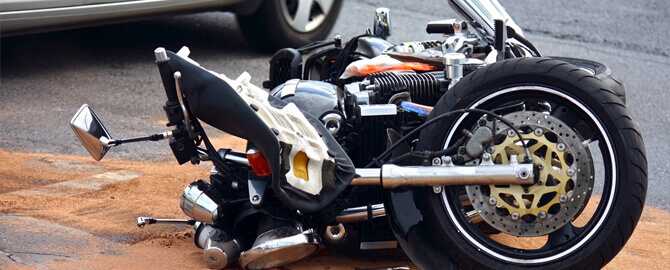 We help people throughout Kentucky bring lawsuits for serious injuries and wrongful deaths caused by motorcycle accidents. Whether the injuries you suffered were the result of negligence or a defective motorcycle, our attorneys and accident lawyers understand that being involved in a personal injury case can be an overwhelming experience.  You are hurt and trying to juggle medical bills and lost wages. The insurance company is demanding you provide them with a statement. The insurance company has sent you a low offer and is pressuring you to accept it. Don't get bullied – hire a group of personal injury attorneys who will fight back!
Allow our attorneys to assist you in remedying your immediate concerns: (1) medical expenses, (2) financial harm through lost wages, and (3) future treatment relating to your injury. Next, we will seek full recovery of your property damage, any damage done to your motorcycle and pain and suffering caused by your injuries.
To maximize your recovery, it is imperative that you understand the rules and procedures the insurance company intends to use. Our attorneys will discuss these with you, and allow you to use them to your advantage. Unfortunately, many insurance adjusters have never driven a motorcycle, and will not able to accurately identify the cause of the motorcycle accident. Don't be blamed for something you did not cause!
What To Do After A Motorcycle Accident
Here are three things you can do after a motorcycle accident:
1. Call 911 and Ensure Your Safety
If you ever find yourself in a motorcycle crash, call 911 as soon as you are able to. Even if you've avoided any fatal injuries and feel relatively fine, it's worth going with getting checked by emergency responders or at the nearest hospital for any internal injuries you might have sustained. If you're wearing a helmet, keep it on unless the emergency personnel tells you otherwise. If you feel you are able to, move your motorcycle out of traffic. If not do not try to and risk further injury.
2. Take Pictures and Talk to Witnesses
If you still have your smartphone with you and you are able to, try and take pictures of the scene. Having more evidence means giving the police a better chance of finding the culprit. The most important thing to find out after crashes is the driver at fault. So if there are people around the crash that could have seen it, get their names and phone numbers so that you can collect their signed statements later. Even a partial plate number being seen by an eyewitness can also help lead to the culprit's arrest.
3. Consult an Attorney
One of the most important things every motorcyclist needs to do after an accident is to get in contact with a reputable motorcycle crash lawyer in your area. Law experts like motorcycle accident lawyers can help guide you through the process as well as informing you on what to expect. They also can help you manage all conversations with insurance companies as well as others that are involved.
Injuries suffered as a result of motorcycle accidents can be severe and life altering, and you deserve to be compensated
Our attorneys are willing to take on the insurance company on your behalf to see to it that you are treated fairly and not "punished" because of your love of driving motorcycles. You may have suffered whiplash or burns,  broken bones, traumatic brain injury, or loss of a loved one. To discuss your motorcycle accident case and find answers to your questions, contact our personal injury attorneys Lexington Kentucky at 859-258-2697.