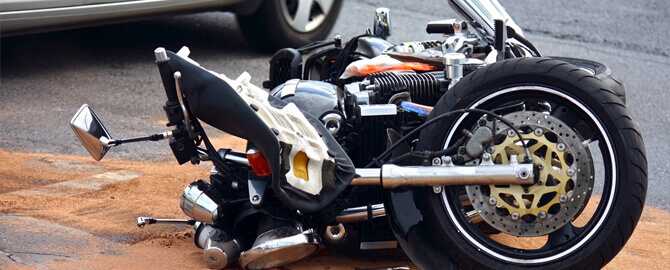 We help people throughout Kentucky bring lawsuits for serious injuries and wrongful deaths caused by motorcycle accidents. Whether the injuries you suffered were the result of negligence or a defective motorcycle, our attorneys understand that being involved in a personal injury case can be an overwhelming experience.  You are hurt and trying to juggle medical bills and lost wages. The insurance company is demanding you provide them with a statement. The insurance company has sent you a low offer and is pressuring you to accept it. Don't get bullied – hire a group of personal injury attorneys who will fight back!
Allow our attorneys to assist you in remedying your immediate concerns: (1) medical expenses, (2) financial harm through lost wages, and (3) future treatment relating to your injury. Next, we will seek full recovery of your property damage, any damage done to your motorcycle and pain and suffering caused by your injuries.
To maximize your recovery, it is imperative that you understand the rules and procedures the insurance company intends to use. Our attorneys will discuss these with you, and allow you to use them to your advantage. Unfortunately, many insurance adjusters have never driven a motorcycle, and will not able to accurately identify the cause of the motorcycle accident. Don't be blamed for something you did not cause!
Injuries suffered as a result of motorcycle accidents can be severe and life altering, and you deserve to be compensated
Our attorneys are willing to take on the insurance company on your behalf to see to it that you are treated fairly and not "punished" because of your love of driving motorcycles. You may have suffered whiplash or burns,  broken bones, traumatic brain injury, or loss of a loved one. To discuss your motorcycle accident case and find answers to your questions, contact our personal injury attorneys Lexington Kentucky at 859-258-2697.